Sebapharma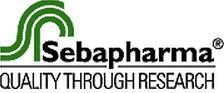 The Sebapharma GmbH & Co. KG is the owner of the brand sebamed. It is a modern family run business based in Boppard am Rhein, Germany. The company was founded in 1967 as Sebamat-Chemie GmbH. With the well-known brand sebamed, the parent company has been very successful for many yearsand is recognized as a competent, innovative and performance-oriented company.
In somewhat more than 45 years Sebapharma has matured from a small family business initially only active in Boppard, Germany to a global company.
The values and products of the traditional, yet modern family-owned business are well receivedall over the world: Sebapharma is represented in over 80 countries with a total of more than 120 different sebamed formulations.
The success of the international business is based on excellent, dynamic sales partners whorepresent both our values and philosophy and market our innovative products worldwide.
Theyprovide the necessary expertise and are the key drivers of growth through the strategic launch ofnew products within their respective markets. Sebapharma continues the trend set in the past years with a significant increase in revenue from exports.
Sebapharma's international success shows no signs of slowing. In addition to the strongest markets in Europe, the Middle-, and Far-East, Sebapharma is continuing its string of successes in other smaller markets.
Behind the success of Sebapharma there is, above all, one person without whom there would nothave been no company: Dr. Heinz Maurer – courageous, visionary, entrepreneur and founder of Sebapharma.
Heinz Maurer graduated from medical school in 1950 and received his Ph.D. from the University ofBonn. In 1952, he realized a revolutionary new idea. He developed the first 'soap without soap', acleansing bar based on ten sides which corresponded to the skin's slightly acidic pH of 5.5. In 1967 he founded Sebamat-Chemie GmbH and manufactured the first sebamed products.
Related Articles
you also may be interested in the below articles