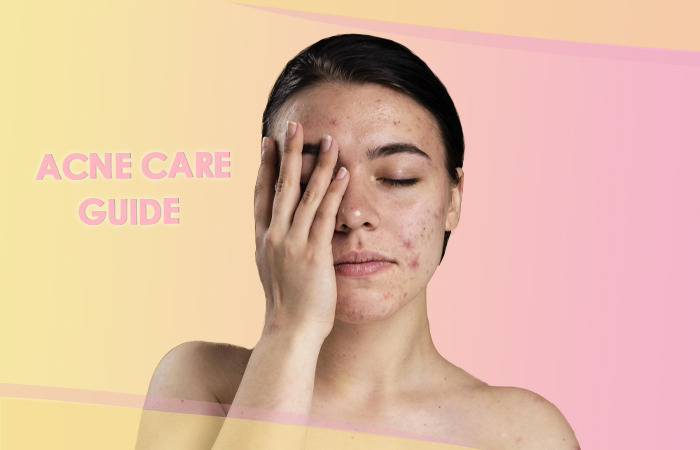 ACNE CARE GUIDE
« Acne is an annoying skin condition and can bereally upsetting. When you have a break-out,you may feel uncomfortable, and as if everybody is looking at you »
Acne is an annoying skin condition and can bereally upsetting. When you have a break-out,you may feel uncomfortable, and as if everybodyis looking at you. Parents might tell you not toworry, and that your spots will disappear overtime. But you do not want to wait around, untilyou grow out of them! The good news is, if youwant to get better right now – acne and spotsare treatable.
Although we also have to say, that there is nomagic formula that works overnight. However,with a little disciplined persistence, and the correctskin care you can solve the problem, so don'tworry!
WHAT ACTUALLY CAUSES PIMPLES?
First of all, be assured that acne is an extremelycommon skin problem. You share it with 80% ofall young people, who suffer from acne in oneform or another.
But how do pimples occur? The site of the troubleis the sebaceous glands in your skin. The highestconcentration of these organs can be found in theface, the décolleté and the shoulder. The glandsproduce sebum, which are special fats thatsmooth and protect your skin.
At the start of puberty, a lot of hormones getreleased into your body. Particularly androgens(male hormones, which are present in both malesand females) stimulate increased sebum productionand interfere with the normal shedding ofskin cells.
When the opening of one of these sebaceousglands gets blocked (e.g. by dirt or clumpedtogetherskin cells), the sebum accumulates insideand forms a so-called whitehead, which developsinto a blackhead when oxygen in the air darkensits constituents.Certain skin bacteria (Propionibacterium acnes)proliferate in blackheads. Then the ebaceousgland gets inflamed, swells and pus is developed.And there you have it: a pimple!
HOW CAN I GET RID OF PIMPLES?
At the moment, this must be the most important question for you, right? Thetreatment of pimples is somewhat tricky. Contrary to what the advertising industrypromises, you cannot expect acne to cure overnight. So have a little patience,because it is important that you treat your skin over a period of time to improveyour complexion.
An essential role for your skin's health is played by the protective acid mantle ofthe skin, which has a pH value of 5.5. This is your skin's natural barrier againstharmful environmental influences and germs. The pH value of 5.5 is slightlyacidic and has the effect that noxious bacteria cannot multiply on the skin, henceprotecting you from infections.
pH is the value of acid or alkali measured on a scale of 1-14.pH 7 being neutral. Lower numbers are increasingly acidic, higher numbers areincreasingly alkaline. Note: Healthy skin has a slightly acidic pH value of 5.5.
Why is this important when you want to stop pimples from occurring?For the cleansing and care of acne-prone skin dermatologists recommendusing soap-free cleansers and skin care products that have the same pH value ofhealthy skin. By treating your skin with these products you stabilize thebarrier function of the acid mantle and protect against acne-causing bacteria(Propionibacterium acnes).So pimples simply do not have a chance anymore!
Sebamed provides perfect products for your acne treatment:
CLEAR FACE CLEANSING BAR
CLEAR FACE ANTIBACTERIAL CLEANSING FOAM
CLEAR FACE DEEP CLEANSING FACIAL TONER
CLEAR FACE ANTI-PIMPLE GEL